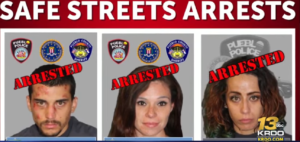 In Colorado, felony theft or larceny (sometimes called grand theft) is defined as intentionally stealing another person's property valued at $2,000.00 or higher. Felony theft is punishable by a commitment to state prison, with the length of the sentence determined primarily by the value of the money or property that was stolen.
Arrest Records By County - Colorado (CO)
Theft Crime - Archuleta County, Colorado
A
B
C
D
E
F
G
H
J
K
L
M
N
O
P
Q
R
S
T
U
V
W
Y
Z
Name
Arrest
Photo

Tye Brandon Fehrenbacher

Bond: $5000
Arrest Age 22
Pagosa Springs, Archuleta, CO
Arrested Feb 01, 2017
• 1st degree criminal trespass other intent
• all other thefts
• pawnbroker- false info by seller.
Check person's criminal record
Police Records, Case Numbers, Background Search,
Civil Judgments, Contact Information and Much More!