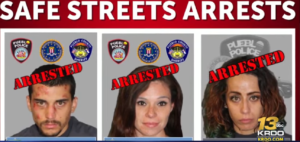 In Colorado, felony theft or larceny (sometimes called grand theft) is defined as intentionally stealing another person's property valued at $2,000.00 or higher. Felony theft is punishable by a commitment to state prison, with the length of the sentence determined primarily by the value of the money or property that was stolen.
Arrest Records By County - Colorado (CO)
Theft Crime - Elbert County, Colorado
B
C
D
E
F
G
H
J
K
M
N
R
S
T
U
W
Y
Cristina Rogers

Arrest Age 42
ᐅMore Information
Arrested Jan 04, 2018
• possession of schedule 1 or 2 less than 4 grams
• identity theft
• criminal possession of a forged instrument (f6)
Seth Roth

Arrest Age 35
ᐅMore Information
Arrested Oct 17, 2017
• criminal mischief aggravated damage $500 - $1000
• #2
• theft where value taken is $500 - $1000
• third degree criminal trespass when classified by assessor a
• second degree burglary of a dwelling
Check person's criminal record
Police Records, Case Numbers, Background Search,
Civil Judgments, Contact Information and Much More!